Sandwood Bay

Coast 2

Panoramic version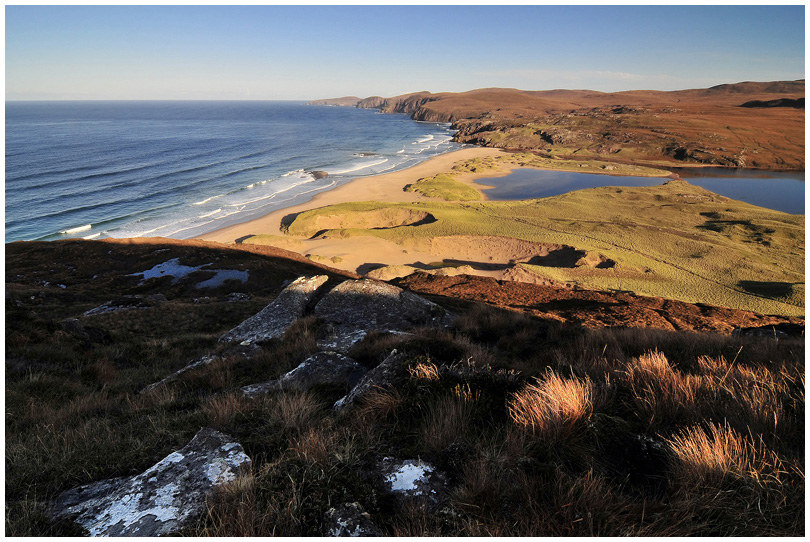 Sandwood Bay is just ten miles south of Cape Wrath, the NW tip of Scotland, and is renowned as Britain's most beautiful beach. After a 4.5 mile trek across the moor, the visitor is treated to a huge unspoiled beach, sand dunes, an adjacent freshwater loch, sea cliffs and an impressive stack (not in picture). Throw in a wildcat sighting and the Highland experience doesn't get much better!

Date: 08 November 2009
Location : Sandwood Bay, Sutherland
Nikon D300, Tokina lens 12mm. 1/25s f22 ISO200
Image reference c108. © Angus Bruce, Ullapool.
AVAILABLE PRODUCTS (more info and price examples on Sales page):
A6 Photocard
Mounted print, hand titled and signed, within cellophane wrapper - size 9"x6" (mounted A4)
Unmounted print supplied in wide-bore roll tube - sizes:
12"x8" (30 x 20cm)
18"x12" (45 x 30cm)
30" x 20" (75 x 50cm)
... and other sizes in 3:2 format ratio
Other finishes available, including canvas, acrylic, aluminium, foamboard. Please enquire.
All images © Angus Bruce, Ullapool, Scotland and may not be reproduced in any form without permission